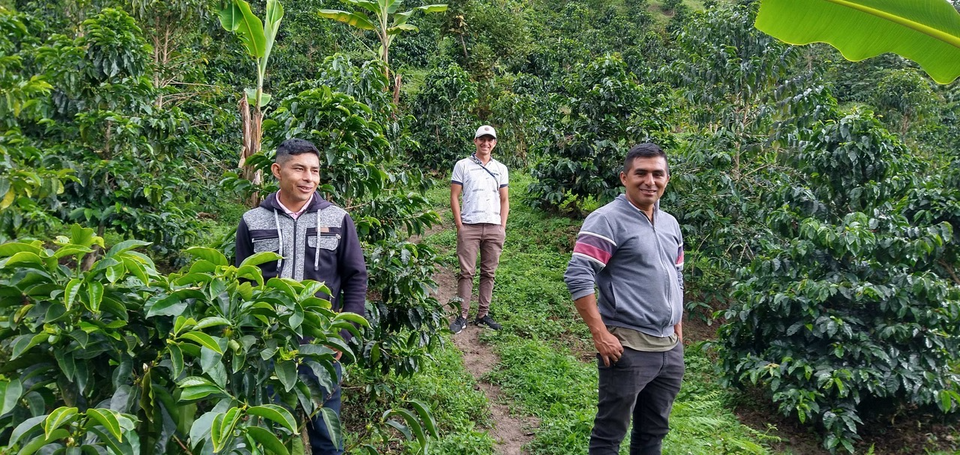 Colombia La Banda Rebelde
Sold In 12 Oz. or 2 Lb. Bag
TASTING NOTES:
 Milk Chocolate, Cane Sugar, Honeydew
REGION:
 La Plata, Huila
PRODUCERS: 
Didier Javier Pajoy, Christian Pajoy, and Elias Pajoy
ELEVATION:
 1,750 MASL
VARIETY:
 Caturra, Colombia
PROCESS:
 Fermented (In Cherry & In Parchment) & Fully Washed
Our friends at Shared Source have partnered with Didier Javier Pajoy and his family for several years now in the La Plata zone of Huila. Didier Javier was actually on the verge of moving on from coffee before he met Shared Source as he was met with the yearly battle of being paid too little for his crops. He actually was fairly unaware of the quality of his coffee at the time -- no one had bothered to tell him how special his coffee truly was. Once you've tasted this coffee, you'll understand what a tragedy that truly was. Shared Source had the pleasure of cupping his coffee a few years back, and were able to offer him the highest price he'd ever received for his coffee -- they've been buying his coffee every year since. 
This lot, which has been affectionately called "La Banda Rebelde" or "The Rebel Gang", is made up of coffees from Didier Javier, his brother Christian Pajoy, and his father Elias Pajoy. These men are referred to as The Rebel Gang by Shared Source due to their prioritization of organic growing practices as opposed to the synthetic chemical - intensive practices encouraged by their local FNC. 
The Pajoy family truly take organic growing practices to a new level. Here's an excerpt from Shared Source on that matter: 
"Starting with a base micro-organism population using a few kilos of virgin soil from native oak forest, they add micro nutrients, molasses, and animal products and let this ferment for up to several months and use it as the base for other fermented and enriched products: ... [of those products, one of which is to use the base] on coffee pulp to decompose [it] faster to have actual live compost to work with."



Shared Source has been so impressed with Didier Javier's agricultural practices that they've begun contracting him to visit other small producers in Huila. We're so honored to partner with groups that prioritize investing in smallholder farmers, who're doing things the right way. Didier Javier was on the verge on giving up on coffee, and now he has a multi-faceted revenue stream and he feels seen and known -- we couldn't ask for more. On top of that, though, we get to enjoy and showcase the excellence of his and his family's coffees. 
Please Note: All coffee bean orders are roasted fresh and may take 24-48 hours before shipping.